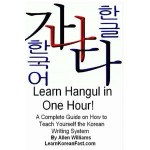 Learn Hangul in One Hour!
A complete guide on how to teach yourself the Korean Writing System
By Allen Williams PhD
Learn to read, write, and remember the Korean writing system, Hangul, in one hour.
Also instantly learn the alphabet order.
Trying to learn Korean using English letters is not just a waste of time, it can cause you a great deal of embarrassment!
Learn to read, write and pronounce Korean the right way.
Save yourself the time and possible embarrassment by getting it right.
If you're interested in Taekwondo, Korean drama, or Korean pop singers, or a student of Korean language, this is the place to start.
This book is a system that uses mnemonics to teach you the sounds so you can easily remember the Korean alphabet.
You'll get sample vocabulary to both re-enforce and remember each character, and samples of each character as they appear both typed and handwritten.
You'll also get complete, stroke-by-stroke, diagrams on how to write each letter.
A journey of a thousand miles begins with a single step.
Now, wouldn't that journey be a lot easier if that first step was to reach for the phone and call a travel agent to book a reservation on the next flight to that destination?
Sure it would. This is the 21st Century and your time is valuable.
You don't have to take that journey on foot, and you don't have to travel alone.
This book is a lot like that. Buying this book is the first step of that journey to learn Hangul, and it can be easier and a lot more fun than you ever imagined. In fact, it may appear to even be too easy. That would be great, wouldn't it? Korean children spend weeks learning Hangul in elementary school, others who want to learn Korean language must first spend days and even weeks doing the same thing before they can even start. Don't waste your time and effort. There's no reason for you to learn Hangul that way.
With this book you can learn in about one hour what others have taken hours, days, even weeks to learn. Impress your friends and get a jump on your Korean language study with this method.This book is intended to teach you to learn and remember the Korean writing alphabet. This alphabet is called Hangul, and has been heralded by some to be one of the most scientific writing systems in use today. However, since it varies greatly from the English alphabet, it can appear daunting at first and traditional methods for learning and remembering it are boring and time consuming. If you follow the steps set forth in this book, you will accomplish this task, and you will do it in only 1 hour. 1 hour of concentrated study on the ideas set forth in this book.
I am not a Korean language teacher in the formal sense, but I have spent a good deal of time studying the Korean language as well as a smattering of time on a couple of other languages.
I wrote this book in response to the frustrations I've seen from those who were struggling to learn Korean but were doing it by following romanized versions of the words. I hate to see time and talent wasted, and to me, that is just what that kind of study is, a waste. If you're in Korea, you will see very little romanization (or other English spelling representations). Outside of road signs and a few restaurant menus, Hangul is the prevalent method for writing Korean, and it is well worth the time it takes to learn and remember it.
Also, once you have mastered the alphabet, you will be surprised at how many things you are able to understand, especially since there are a great deal of foreign words in use in Korea but represented in Hangul and with a slightly different pronunciation.
If you truly want to learn Korean, then learning Hangul is the first and most sensible step.
This book will teach you to do this, learning on your own or in a group.
Chinese characters are also used to represent the Korean language, but it is becoming less and less used though it still appears in newspaper headlines and many Koreans' name or business cards.
This book won't be dealing with those characters.
You will also need to continue your usage of your new found knowledge in order to permanently ingrain it into your memory and apply this knowledge to acquiring vocabulary. I am sure you will find this book helpful in starting you on the path to a wonderful experience with your study of Korean or stay in Korea.
Get your copy from Amazon.com ===>Learn Hangul in One Hour: A Complete Course on How to Teach Yourself the Korean Writing System (Volume 1)